by Sarah Davis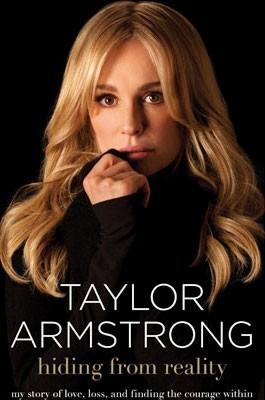 Real Housewife of Beverly Hills' Taylor Armstrong is releasing a new memoir,
Hiding From Reality: My Story of Love, Loss, and Finding the Courage Within,
which will be released on Feb 7. The tagline of the book is, "Not every fairy tale has a happy ending."
In August, her husband, Russel Armstrong, committed suicide and not only were fans of the show stunned, the tragedy made headlines everywhere. During the current season of The Real Housewives of Beverly Hills, there is footage of their marriage during the time leading up to Russel's unexpected suicide which shows their relationship as bizarre, clearly on the rocks, and confusing to the rest of the cast.
In this book, Taylor writes about the physical and emotional abuse she suffered from Russel during their six year marriage and as a child. She opens up about her past with abuse and why she stayed in such an unhealthy marriage, noting low self esteem as one of the reasons. According to a recent interview, Taylor was afraid to open up about the abuse prior to Russel's death because of how he would react. She filed for divorce one month before his suicide.
"My book takes readers behind the glamour of Beverly Hills to show them the terrible violence I suffered, and the slow and painful process of rebuilding my shattered life," explains Taylor in a statement released to People Magazine.
While some would think her fans would be proud of her, there are already lot of strong negative reactions on her memoir; some fans are even angry that she is writing "false information" and "bragging about being an abuse victim." Rumors are circulating that her castmates are "disgusted" with her for writing this book so soon about such a sensitive subject for her & her daughter and making a profit from it.
Also, she released the cover for this book (capturing Taylor in a victim-like pose with sad eyes) during the same week that fellow castmate Kyle Richards released her book, Life is Not a Reality Show.