As women, we all have guilty TV pleasures or shows that we watch alone with snacks while we polish our toes. These are shows that we have to watch alone, because our boyfriends or husbands wouldn't dare lessen their masculinity by watching. For me, at this time of the year, it's time to say farewell to
Pretty Little Liars
and
Girls,
which both aired their spring finales this week. Just a few months ago, it was
American Horror Story: Asylum
. But don't worry, because the sooner these spring finales wrap up, the closer we will be to the Summer's best show:
True Blood
. But, I'm not a TV junkie. I promise.
Season 3 of Pretty Little Liars wrapped up last night and a couple of things were revealed, but as the mystery of "A" goes, we really didn't learn as much as was promised. If you've kept up with the show, you know that the episode promised to finally reveal who
Red Coat", or the leader of the "A-team" was.
What did we really learn? We learned that Spencer joined the A-Team as a double agent and kidnapped Malcolm to take him to the circus. Also, Spencer and Toby (yes, he's still alive) meet up at a secret location to talk about how Toby only worked with "A" to protect Spencer. Finally, we get a glimpse of the girl in the red coat and it's Allison. But, there's a catch, only Mona and Hannah saw her and they were disoriented from almost being burned alive. We also learn that Red Coat, or Allison, might not be after the girls, rather protecting them from another group of people, who even want Mona dead. Jenna and Melissa (Torrey Devitto-who we interviewed last year) may be a few of the real culprits. At the end of the show, Mona is side by side with the girls, just as confused as everyone else and Allison has, as usual, vanished. As for a shocking finale, the girls find Detective Wilden's car pulled out of the lake and when the open the trunk, they all gasp in equal parts horror and shock. We'll have to wait until the June premiere to find out what or who was in the trunk.
What did you think of the show's finale? Are you impressed with the information revealed or did you hope to really find out who Red Coat was?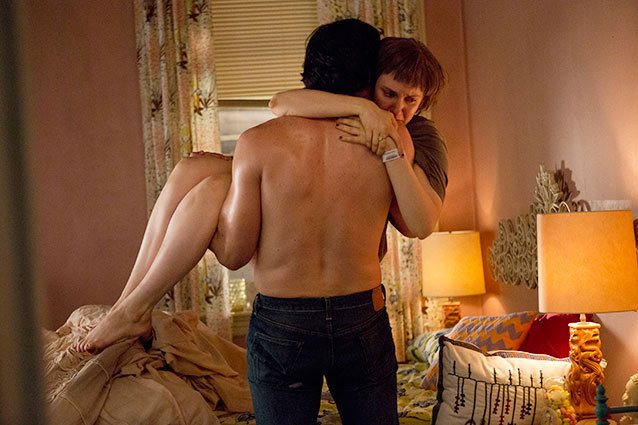 On another network, the second season of
Girls
ended this past Sunday and even though the season wasn't as entertaining as its first, the finale offered a little bit of hope for all four of the girls who seemed to do nothing but struggle for the entire season (well, we still haven't heard from Jessa since she ran away from her father's house.) Hannah and Adam finally rekindle their relationship, in the middle of Hannah's emotional and mental breakdown. When Adam ran through New York to get to Hannah's apartment, it was tear-worthy, even if Hannah, was more annoying than usual this season.
Girls
is one of those shows that even if you love to hate it, you still watch it every week. We stuck around all season for an episode like the finale and we finally got to see something good happen, instead of Marnie tragically singing at a party she was invited to out of pity, Hannah shoving Q-tips into her eardrums, or Jessa visiting her father after her divorce only to cry about her childhood. (I would talk about Shoshanna's dilemmas, but thinking about her voice makes me want to reach for a bottle of Tylenol to nurse an oncoming migraine.)
Image Credits: ABC Family, HBO